Fondly,

~Frugal Femme
Hello, my fabulous friends! This weekend I treated myself to another product from the Boots line, since I was so happy with the results of the first. It seems as though I may have found a less expensive alternative to the Smashbox photofinish primer, so stay tuned for a full review of the combined power of Restore & Renew together with the Colour Calming Make-up Base - the results are nearly in, and you'll be the first to hear more, as always!


For starters - my teaser from so long ago has been much researched, and while the results may not be what any of us expected, they're tried and true. NO after-shave care product I've used has been able to counteract the results of a hurried or careless job of shaving. I know that some will soothe pain, others will alleviate redness, but the only honest to goodness way to cure the problem of shaving irritation starts when you turn on the water.

First, ALWAYS make sure you have the time to really dedicate to handling this delicate process properly. Any rushed shave job (particularly in the bikini area) is going to result in irritation. You want to use warm or hot water, and allow your skin to soak, not just get wet. If you're not taking a shower or bath, use a wet washcloth and hold it against the area to be shaved until the skin is completely hydrated.

Second, EXFOLIATE. The top layer of your skin will come off with your blade, and will keep you that much further away from the closest shave possible. You don't need to use a harsh or abrasive exfoliant; sugar scrubs are ideal, as they also cover the next important aspect of the perfect shave.

Moisturize. Use a sugar or salt scrub that contains essential oils that will soften the coarse and thick hairs, making them easier for your blade to *cut* rather than to break or pull. You can also use a small amount of hair conditioner or body cream; don't overdo it though, because you want to leave it on during your shave.

Use a new razor. A sharp blade will ensure that the hair is *cut* and not pulled from below the skin, which is what causes those red bumps in most cases, and usually leads to painful ingrown hairs. A sharp razor also means only one or two passes across each bit of skin will do the job; repeated scraping of an area will also lead to irritation.

You can absolutely use an after-shave gel, lotion, or other product, but these tips will alleviate the need for one. Just make sure that you're avoiding alcohol or other drying agents, which will pull your skin tighter and bring the hair you've just cut closer to the surface.

For those who live in an area that has an adult store of some kind, check out Coochy Shave Cream - I've heard nothing but rave reviews from colleagues who have used it, and I've got some on the way so I can give you a first hand account soon.

I hope this has proven to be helpful, and I'll see you all again soon - I've got a trip to Ulta planned for tomorrow or Friday, and now I'm off to make my shopping list! Anything in particular you'd like me to keep an eye out for while I'm there? Drop a line and let me know!

Hugs 'n' Smooches,

~FF
Hello, my lovelies. Things have been super busy here in the home of the Frugal Femme. I've neglected you terribly, and I do intend to make amends just as soon as I can! While all of the things going on in my little corner of the world are very positive and exciting developments, I want to work harder to make sure that this blog starts getting the attention that it, and YOU, deserve.
... A request came in from a friend regarding aftershave lotions and gels. Next on Frugal Femme, what it takes to avoid the potentially painful aftereffects of that perfect shave, be it on your legs or higher... Stay tuned!
Product: Boots Restore & Renew Beauty Serum
Use: Anti-aging
SRP: $21.99
Nothing makes me happier than getting to try a new product without plunking down my hard-earned cash for the privilege. I'd been hearing about Boots for some time, and once the line arrived at Target, it was only by physical force that I could be removed from the Health and Beauty aisles. So many products, none of which I'd tried, and where to start? Thankfully, Boots saw fit to provide samples and knowledgeable employees to Target stores, and I walked away with about two weeks' worth of No7 Restore & Renew without lightening my wallet. And now, dear readers, the results are in!
Boots recommends using No7 R&R for about four weeks to see reduction of pores, fine lines, and an overall restoration of youthful skin. I've got this fabulous makeup mirror with the 10x magnification side - you know, the one we never use because we'd rather NOT see all those imperfections up close and personal first thing in the morning - and I made a point of giving my face a good hard look before my first use of Restore & Renew. Then, I told myself to give it some time, use it every day until it was gone, and see what happened. Here we are, a week and a couple of days later, and let me tell you, I didn't even need to go back to the magnified mirror to know that this stuff works.
After ten days' use, I can *feel* the difference in my skin when I apply the serum, followed by my usual moisturizer. The area around my nose and my chin are the "trouble spots" for enlarged pores, and where I didn't have to before, I now need to get right up to the mirror and truly LOOK for my pores. My skin appears smoother, more uniformly colored, and has a radiance I didn't know was missing until I got it back. I leave my face naked but for a dusting of mineral finishing powder, which also goes on more evenly than it did a week ago, and that's all it takes to eliminate those imperfections I generally have to work to cover and mask.
The product itself is thick and a bit paste-like; I have to remind myself that it's a *serum* and not a moisturizer. It's not meant to feel completely weightless - it's got work to do, and that requires a bit more substance. It feels
good
, though - like a thin mud mask that you rub in rather than letting it sit on the surface. It takes only moments to completely absorb into the skin, and doesn't leave a shine, so you don't have to apply a powder over it if you don't care to. A very small amount covers my entire face and neck, and there's only a faint scent - more medicinal than fragrant - which doesn't linger past application.
It's no wonder Restore & Renew is flying off shelves everywhere; we all hear the hype about every new anti-aging system, every recommended proactive measure for maintaining your skin's elasticity and tautness, every cream/toner/cleanser that's going to turn back the years. Finally, there's one product, applied in seconds every morning, that delivers on the promises made by every skin care company known to femme. Head to Target or CVS and see if you can grab up a bottle of this serum before it's sold out; by the time they get it back in stock, you could already have seen the results for yourself.
Do you own this product? Would you like to add your thoughts on this or a similar one? Comment here for others to hear!Have a product you want your Retail Private Eye to investigate before you buy? Email me at Frugal (@) Femme Flavor (.) com!


How many of you have tried Boots? Was it in England, or not until they debuted the line here in the US? What are your overall thoughts? Can't wait to hear, and from there, of course, I can't wait to try it all!

I hope you're enjoying a safe and relaxing holiday weekend; until later then, my lovelies!

Fondly,

~FF
Who's excited that Britain's number one cosmetic and skin care company has finally landed in the states? I know I am! I managed to score a handful of samples of their Restore & Renew Beauty Serum in addition to a couple of other skin care products, so you know I'll be delivering a report before long!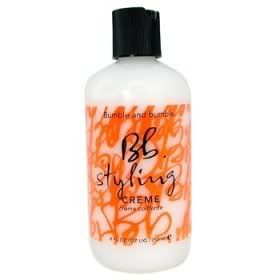 Product: Bumble & bumble Styling Creme
Use: creating the perfect 'do
SRP: $22
Best Price: $22 at participating salons (visit
http://www.bumbleandbumble.com/
and click the Store Locator at the top to find one near you)
It's been a while, I know; thank you all for your patience while I was on vacation and catching up afterwards! As a reward, I want to tell you about the first styling product I've been willing to spend more than $5 on in *years*.
I have plastic totes under my bathroom vanity that are full of various products, not the least represented of those being hair styling goos of various types. Spritzes, gels, mousses, pomades, you name it, we've got it. A very few get a second go-'round, and when they do, it's almost always due to price rather than performance. No longer is that the case.
My dear stylist, Chris at Anvil Salon in San Francisco, made a believer out of me when he introduced Bumble & bumble's Styling Creme. After telling me that my hair is in fact not just wavy, but *curly*, and after allowing my laughter to serve as a challenge, he hit my hair with a dollop of this stuff and watched my smirk fade into sheepishness.
The bottle reads, "Well, it's not a mousse and it's not a gel - some call it magic." Count me among them. With about a quarter-sized amount of product worked through my ridiculously thick, shoulder-blade length hair, he turned stick straight into just shy of ringlets. While other brands will promise not to leave your hair stiff, sticky, or immobile, this one delivers - I was able to run my fingers through without getting stuck, OR ruining the curl.
If you've not yet tried Bumble & bumble products, do yourself, and your hair, a favor - treat yourself to a cut and style at a salon that carries them, and ask the stylist to use this creme. Grab a bottle to take home, and discover how easy it is to finally reproduce salon styling at home with one product in a large enough bottle to last you at least until your next visit.
Do you own this product? Would you like to add your thoughts on this or a similar one? Comment here for others to hear!
Have a product you want your Retail Private Eye to investigate before you buy? Email me!
First, the L'Oreal Infallible lip color is on sale at Ulta - $8.99 each, so if you've got an Ulta nearby or you trust the colors represented on the website, buy 'em now! This is probably the price they'll fall to once the novelty wears off, but I wouldn't imagine it will go any lower, considering that comparable products are all right around ten dollars apiece and they hold a fraction of an ounce more than this does if I'm not mistaken.
Second, I've been quiet for a reason, and it's time to share it with you - Frugal Femme is now one sub-domain of my very own website! My new domain,
http://www.femmeflavor.com
, is still very much under construction, but it will host the Frugal Femme reviews and so much more from here on out. I will continue to cross-post for a short time, but my main goal is to have it all in just one place. I will likely ask you all to subscribe to the RSS feed for the Frugal Femme portion of my site at some point this fall, but until I'm more familiar with the new content management system, I'll continue to post in LJ and export to WordPress.
That being said, the new location of the Frugal Femme is currently
http://frugal.femmeflavor.com/wordpress/
. My partner is the computer geek and she's working on the links and all that good stuff, but it will have to wait a bit longer because of...
Item number three on the exciting news list - I'm officially on vacation! I have to leave my house in an hour and a half, and I'm sitting here writing to you wrapped in my biggest, warmest towel, straight out of the shower, haven't yet slept and won't until I board the plane. My makeup, hair, nail, and body products are all packed, but the last of my clothes are still in the dryer... I've got the shoes narrowed down to seven pairs for eight days including travel, but I'm afraid I may be required to whittle the selection even further... Goodness, I'd best get going, no?
Have a wonderful week and some, my lovelies!
Fondly,
~Frugal Femme
I've got three bits of news that are exciting for me, and I hope at least one is for you, as well!
Product: L'Oreal Infallible Lip Color
Use: Long-lasting lip color in a variety of shades
SRP: $11.99
Best Price: Target, $9.99 (in stores only - click the picture to go to Ulta for online shopping)
What's the point in getting all dolled up for a hot date if kissing said date results in lipstick ruin? Thankfully, there are products out there that will keep us free from reapplication for hours of luscious lip locking.
I'm a big fan of MAC makeup, I'm not going to lie. I'm also a big fan of being able to pay the bills, so my supply of MAC is much shorter than that of drugstore brand cosmetics. When it came time for long-lasting, no-worries, this-stuff-isn't-going-anywhere lip color, I hit the MAC counter, knowing I'd find what I needed, and I did - the pro longwear line has some great colors, they last through most anything, and they don't dry my lips. All of what I need in a lip color, to the tune of $20 plus tax. A small price to pay, if it's the only product out there. None of the others I'd tried had provided the same results, so I was content with the price tag. Until now, of course.
Let's start off by saying that L'Oreal sure does know how to push our packaging buttons. The mirrored case with the lip color locked into one side and the moisturizing sealant on the other is pure genius, and let's not forget how much I love the shiny stuff! At about the size and shape of a compact flip phone, the case is pocket-ready or easily thrown in any size bag. The mirror isn't compact-quality, but it does the trick, whether you're applying the color or touching up the sealant. The color applicator is a molded sponge-tip, which may need to be used somewhat carefully by our thinner-lipped friends, but which fits the curves and corners of the mouth perfectly so that one swipe is all it takes to apply evenly and thoroughly.
The colors seemed somewhat limited to pinks and browns, but it appeared to be because several of the reds (Pomegranate and Crimson among them) had already sold out in both Target and Walgreens, despite the fact that the product had hit the shelves mere days before I shopped for it. The 24 shades do range widely enough that anyone should be able to find at least a couple that work well for them, and there are close color options for frost or matte based on your preference.
I picked up Azalea, a really pretty pink with purple undertones, and I wore it all weekend, through lunches and cocktails with straws and bubble gum and smooches. The color didn't move until I wanted it off. I reapplied the sealant two or three times over the course of seven or eight hours' wear, more because I was checking out color's staying power and happened to think of it than because I felt the need. The stick sealant moisturizes without feeling greasy, and it soaks into the color and the lips rather than sitting on top. When the days were done, a quick once-over with makeup remover took the color away without any scrubbing necessary.
Grabbing me with the packaging, hooking me with the price, and winning me with the proof, L'Oreal's got a new convert when it comes to keeping my lips dressed all day.
Do you own this product? Would you like to add your thoughts on this or a similar one? Comment here for others to hear!
Have a product you want your Retail Private Eye to investigate before you buy? Email me!
Electric Cosmetics
(see my review
here
), all eye shadows are on sale - 5 gram jars for $3 each as opposed to the normal $5 each. Dez is also offering a free shadow with each purchase. The sale is through this Sunday, August 5th, so definitely check it out if you're in need of some new shadows! My favorite EC shadow colors are Plue, Soft Red, and Creek. Have fun shopping!!!
~FF
For anyone who is interested in trying out


~FF
I'm mid-test, but I've got a good feeling about this one; stay tuned for tomorrow's full report on L'Oreal's new Infallible Lip color! I hope you're all having a lovely week!